Why Hire My Services?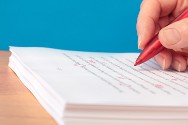 Hello, I'm Jevon and this is where I offer to you services of a professional copywriter that will benefit you as an individual or business. Writing effective copy is sort of an art form that requires time, practice, and patience.
So why hire me to be your copywriter?
I have below several questions and answers that help clarify what I can and intend to do in order to further your company's sales growth or help build careers.
Contact Jevon at (440) 289-2110 for professional copywriting and technical writing services.
For more information about Jevon's dependable freelance writing services, get in touch with him here.